The 2019 Beatrice Renfield Lecture in Research Nursing

Advancing Symptom Science and Symptom Management in the Era of Precision Health
Featuring Christine Miaskowski, PhD, RN, FAAN
Date:
Tuesday, March 26, 2019
Time:
6:00 – 7:00 p.m. Lecture
7:00 – 8:00 p.m. Reception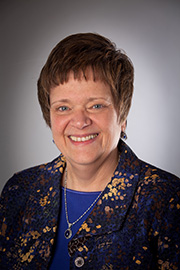 The Heilbrunn Family Center for Research Nursing at The Rockefeller University is pleased to present the 2019 Beatrice Renfield Lecture, featuring Dr. Christine Miaskowski. An accomplished nurse scientist and educator, Dr. Miaskowski is a Professor and Vice Chair for Research in the Department of Physiological Nursing and Sharon A. Lamb Endowed Chair in Symptom Management Research, in the School of Nursing at the University of California in San Francisco. In addition, she is the first nurse to be awarded an American Cancer Society Clinical Research Professorship.
Dr. Miaskowski is an internationally recognized expert in pain and symptom management. For the past 30 years, she has received continuous funding from the National Institutes of Health. Her program of research focuses on determining which phenotypic and genotypic characteristics predict patients with the most severe symptoms; evaluating the deleterious effects of unrelieved symptoms on patient outcomes; and developing and testing interventions to decrease symptoms in patients with cancer.
At this year's Beatrice Renfield Lecture on March 26, Dr. Miaskowski will talk about benefits associated with precision health initiatives in the context of managing symptoms in cancer patients and survivors. Information will be provided on the strategies that can be used to phenotype cancer patients for symptom management studies. Data will be presented on the phenotypic and genomic characteristics that place oncology patients at risk for a higher symptom burden. The presentation will conclude with recommendations for future research and implications for clinical practice.
Dr. Miaskowski received her Bachelor's degree in Nursing from Molloy College in New York. She has a Master's degree in Nursing from Adelphi University and a Master's degree in Biology and a PhD in Physiology from St. John's University in New York. After her doctoral degree she completed a postdoctoral fellowship as a Robert Wood Johnson Clinical Nurse Scholar.
---
Continuing education credits will be offered through the Clinical Directors Network for those attending or streaming the 2019 Beatrice Renfield Lecture.
Registration for Live Streaming
This lecture series is made possible by the generosity of The Beatrice Renfield Foundation. It is cohosted by The Rockefeller University's Heilbrunn Family Center for Research Nursing and the Women & Science Initiative.