Beatrice Renfield Lectureship in Research Nursing
NextGen Health Care: The Stars are Aligned
Featuring Afaf I. Meleis, Ph.D., Dr.P.S. (hon), F.A.A.N.
Date:
Tuesday, March 3, 2015
Time:
6:00 – 7:00 p.m. Program
7:00 – 8:00 p.m. Reception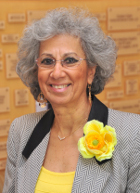 The Rockefeller University and the Heilbrunn Family Center for Research Nursing cordially invite you to the 2015 Beatrice Renfield Lecture featuring Dr. Afaf Meleis. Dr. Meleis is a Professor of Nursing and Sociology at the University of Pennsylvania School of Nursing, where she served as the Margaret Bond Simon Dean from 2002 to 2014. An internationally recognized authority in nursing education and women's health, Dr. Meleis is a member of the College of Physicians of Philadelphia, the American Academy of Nursing, the Institute of Medicine, the N.I.H Advisory Committee on Research on Women's Health, and the Royal College of Nursing in the UK, among many other affiliations. She is also President Emerita of the International Council on Women's Health Issues (ICOWHI).
Dr. Meleis's scholarship is focused on global health, immigrant and international health, women's health, and on the theoretical development of the nursing discipline. She is interested in the transitions that occur as people move from illness to wellness or chronicity or from one stage of life to another. Her special concern is how these transitions affect women, immigrants, and urban populations—people who are most at risk for sickness but have the least access to proper care. In the course of her career, Dr. Meleis has mentored hundreds of students, clinicians, and researchers across six continents. She has published seven books and innumerable articles.
On March 3, Dr. Meleis will discuss her research as well as her urgent call for disruption and innovation in the health care industry. She argues that current systems are outdated, and she encourages nurses to embrace creative solutions to better manage challenges created by longer life expectancies, the rise in incidence of non-communicable disease, and the effects of urbanization and industrialization in communities around the globe.
Dr. Meleis is the recipient of numerous honors, including the Egyptian Medal of Excellence presented to her by President Hosni Mubarak in 1990. In 2007, she received four distinguished awards: an Honorary Doctorate of Medicine from the Linköping University, Sweden; the Global Citizenship Award from the United Nations Association of Greater Philadelphia; the Sage Award from the University of Minnesota; and The Dr. Gloria Twine Chisum Award for Distinguished Faculty at University of Pennsylvania, which is awarded for community leadership and commitment to promoting diversity. Dr. Meleis received the 2008 Commission on Graduates of Foreign Nursing Schools (CGFNS) International Distinguished Leadership Award based on her outstanding work in the global healthcare community, and she was inducted into the UCLA School of Nursing Hall of Fame in 2010. She graduated Magna Cum Laude from the University of Alexandria (1961). She earned an MS in nursing (1964), an MA in sociology (1966), and a PhD in medical and social psychology (1968) from the University of California, Los Angeles.
Continuing education credits for those attending the 2015 Beatrice Renfield Lecture will be offered through the Clinical Directors Network. You may also register to view the live webcast and receive credit here: https://cne.memberclicks.net/mc/community/eventdetails.do?eventId=471700&orgId=cne&recurringId=0

This lecture is made possible by the generosity of The Beatrice Renfield Foundation.
The program is an initiative of the University's Heilbrunn Family Center for Research Nursing.