Beatrice Renfield Lectureship in Research Nursing
Advancing Science, Improving Lives
Featuring Patricia A. Grady, Ph.D., R.N., FAAN
Date:
Tuesday, February 9, 2016
Time:
5:30 – 6:00 p.m. Registration
6:00 – 7:00 p.m. Program
Reception to follow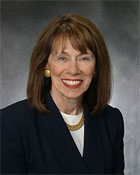 The Rockefeller University and the Heilbrunn Family Center for Research Nursing invite you to the 2016 Beatrice Renfield Lecture in Research Nursing, featuring Dr. Patricia A. Grady. Dr. Grady has served as the Director of the National Institute of Nursing Research (NINR), a division of the National Institutes of Health, since 1995. Under her leadership, NINR has doubled its budget and has significantly increased the number of scientific research and training grants awarded to nurses throughout the United States. Dr. Grady has also helped launch a number of new research initiatives in an effort to improve treatment in areas such as chronic and acute illnesses, demographic health disparities, genetics, and palliative care.
On February 9, 2016, Dr. Grady will provide an in-depth overview of the history, mission, and unique function of NINR within the greater National Institutes of Health. She will also discuss current projects and collaborations that her organization supports with the goal of turning scientific discoveries into measurable improvements in clinical practice and patient care.
An internationally recognized research nurse with a focus on stroke, Dr. Grady received her undergraduate degree in nursing from Georgetown University and a master's degree in nursing from the University of Maryland, where she also earned her doctorate in physiology. Prior to running NINR, she held faculty positions at the University of Maryland School of Medicine and its School of Nursing. In 1988, Dr. Grady joined the NIH, where she held several positions in the National Institute of Neurological Disorders and Stroke, ascending to the role of Acting Director in 1993. She has published numerous articles and papers on hypertension, arterial stenosis, and cerebral ischemia, and speaks frequently on such topics as future directions of nursing research, developments in neurological sciences, and federal research opportunities.
Recently named one of the 100 Most Powerful Women in Washington by Washingtonian Magazine, Dr. Grady is a member of a number of distinguished scientific organizations, including the National Academy of Medicine, the Society for Neuroscience, the American Academy of Nursing, and the American Neurological Association. She is a fellow of the American Stroke Association. She is also an editorial board member for several journals, including Stroke, Neuro Rx, and The Journal of the American Society for Experimental NeuroTherapeutics. Dr. Grady has garnered many honors and awards for her contributions to science and public service, including honorary doctoral degrees from the University of Maryland, Thomas Jefferson University, and the Medical University of South Carolina. She is a past recipient of the NIH Merit Award and received the Public Health Service Superior Service Award from the United States Public Health Service for her exceptional leadership.
Continuing education credits for those attending or streaming the 2016 Beatrice Renfield Lecture will be offered through the Clinical Directors Network. Click here to register for the live webcast and receive credit.
This lecture is made possible by the generosity of The Beatrice Renfield Foundation. The program is cohosted by the University's Heilbrunn Family Center for Research Nursing and the Women & Science initiative.