Beatrice Renfield Lectureship in Research Nursing
Clinical Research Nursing and Nursing Science:
A Perfect Partnership
Featuring Gwenyth R. Wallen, Ph.D., R.N.
Date:
Tuesday, March 7, 2017
Time:
6:00 – 7:00 p.m. Program
7:00 – 8:00 p.m. Reception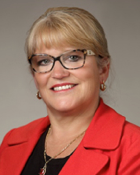 The Rockefeller University's Heilbrunn Family Center for Research Nursing is pleased to present the 2017 Beatrice Renfield Lecture, featuring Dr. Gwenyth R. Wallen. Dr. Wallen is the acting Chief Nurse Officer and Chief of Nursing Research and Translational Science for the National Institutes of Health Clinical Center, a 200-bed research hospital in Bethesda, Maryland that supports the clinical activities of each of the 27 NIH institutes.
Dr. Wallen directs all patient care units at the NIH Clinical Center, managing a staff of approximately 600 clinical research nurses and healthcare administrators. She also oversees the Center's nursing research program while maintaining her own research portfolio with specializations in health behavior and health disparities, integrative health, mixed methodologies and measurement in end-of-life care, and vulnerable populations. As a member of the Center's executive team and a widely respected authority in nursing science, Dr. Wallen plays a central role in setting national standards for patient care in the clinical setting, and for defining how nursing research factors into the biomedical research infrastructure.
In her presentation on March 7, Dr. Wallen will discuss the specific objectives of the NIH Clinical Center, as well as the distinct yet interdependent roles that nurse scientists and clinical research nurses play in advancing healthcare throughout the continuum from bench to bedside and back.
Before joining the NIH, Dr. Wallen served as a Clinical Specialist for Neonatology and Clinical Manager of the Level III Neonatal Intensive Care Unit at the Washington Hospital in Washington, DC. She received a B.S. in Nursing from the University of Maryland, an M.A. in Business Management and Supervision from Central Michigan University, and a Ph.D. in Health Education from the University of Maryland. In 2008, Dr. Wallen also completed a two-year fellowship in Integrative Medicine at the University of Arizona. The recipient of numerous honors and awards for her role as a nurse scientist and educator, she holds adjunct faculty positions at the Uniformed Services University Graduate School of Nursing and the University of Maryland School of Public Health. She is a member of the Eunice Shriver National Institute of Child Health and Human Development (NICHD) Institutional Review Board, as well as the Heilbrunn Center's Extramural Research Nursing Advisory Committee.

Continuing education credits will be offered through the Clinical Directors Network for those attending or streaming the 2017 Beatrice Renfield Lecture. Click here to register for the CDN webcast of this event.
The annual Beatrice Renfield Lecture is made possible by the generosity of The Beatrice Renfield Foundation. It is hosted jointly by the Heilbrunn Family Center and the University's Women & Science initiative.