Beatrice Renfield Lectureship in Research Nursing
Nursing: A Catalyst to Drive Value in Health Care
Featuring Regina S. Cunningham, Ph.D., R.N., NEA-BC, FAAN
Date:
Tuesday, March 20, 2018
Time:
6:00 – 7:00 p.m. Lecture
7:00 – 8:00 p.m. Reception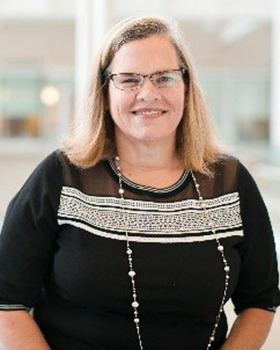 The Heilbrunn Family Center for Research Nursing at The Rockefeller University is pleased to present the 2018 Beatrice Renfield Lecture, featuring Dr. Regina Cunningham. An accomplished nurse executive, scientist, and educator, Dr. Cunningham was recently named CEO of the Hospital of the University of Pennsylvania (HUP) and currently serves as Adjunct Professor and Assistant Dean for Clinical Practice at the University of Pennsylvania School of Nursing.
In her previous roles as Senior Vice President of the University of Pennsylvania Health System and the Chief Nursing Executive and Associate Executive Director of HUP, Dr. Cunningham developed extensive experience in the organization and delivery of nursing services across the care continuum with particular expertise in the utilization of nursing resources in care delivery systems. Throughout her tenure with Penn Medicine, she has been responsible for the development of professional practice standards, oversight of quality, and strengthening the integration of scholarship within the practice of nursing. Her research interests include the effect of nursing on medical outcomes, clinical trials, and innovative models of care delivery. She has received extensive grant funding and currently serves as Principal Investigator on a National Cancer Institute study focused on developing strategies to improve accrual of patients to clinical trials.
At this year's Beatrice Renfield Lecture on March 20, Dr. Cunningham will talk about the importance of nursing in the era of value-based healthcare. She will explore the concept of value and contextualize its importance in healthcare delivery today. Dr. Cunningham will discuss the work of nurses within this context and provide specific examples of how the implementation of nurse-driven protocols has led to improvements in cost, quality, and safety outcomes for patients.
Dr. Cunningham holds a B.S. in Nursing from The College of Mount St. Vincent, and an M.A. in the Delivery of Nursing Service from New York University. She earned a Ph.D. in Nursing from the University of Pennsylvania, and completed a postdoctoral fellowship at Yale University. She was selected as a Robert Wood Johnson Executive Nurse Fellow in 2006 and was inducted as a Fellow of the American Academy of Nursing in 2014.
---

Continuing education credits will be offered through the Clinical Directors Network for those attending or streaming the 2017 Beatrice Renfield Lecture. Click here to register for the CDN webcast of this event.
The annual Beatrice Renfield Lecture is made possible by the generosity of The Beatrice Renfield Foundation. It is hosted jointly by the Heilbrunn Family Center and the University's Women & Science Initiative.