The 2021 Beatrice Renfield Lecture in Research Nursing

Ethics: Emerging Issues and Trends in Clinical Research
A Webinar Featuring Connie Ulrich, PhD, RN, FAAN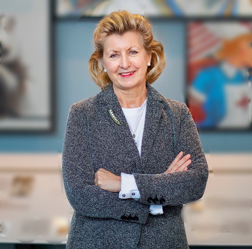 The Heilbrunn Family Center for Research Nursing at The Rockefeller University is pleased to present the 2021 Beatrice Renfield Lecture, a live webinar featuring Connie M. Ulrich, PhD, RN, FAAN. Dr. Ulrich is the Lillian S. Brunner Chair in Medical and Surgical Nursing and a Professor of Bioethics and Nursing at the University of Pennsylvania School of Nursing, with a secondary appointment in the Perelman School of Medicine, Department of Medical Ethics and Health Policy.
Dr. Ulrich's program of research has focused on advancing empirical bioethics in both clinical practice and research, using innovative mixed methodology approaches. With funding from the National Cancer Institute, Dr. Ulrich is currently examining factors important in clinical trial participation and retention, including differences in how patient-participants view the informed consent process and their decision-making process related to clinical trial participation and withdrawal from trials. She has also received funding from other NIH, federal, and state agencies. Dr. Ulrich's work has been published in leading medical, nursing, and bioethics peer-reviewed journals and includes her article, Everyday Ethics: Ethical Issues and Stress in Nursing Practice, which appeared in the Journal of Advanced Nursing in 2010. Most recently, she is the co-editor, with Dr. Christine Grady, of the book entitled Moral Distress in the Health Professions (Springer Nature, 2018.) Dr. Ulrich has also worked with several of her bioethics colleagues to publish the first Hastings Center Special Report, "Nurses at the Table: Nursing, Ethics, and Health Policy."
At this year's Beatrice Renfield Lecture, Dr. Ulrich will discuss emerging issues and trends in bioethics and clinical research. The presentation will focus on the recruitment and retention of participants in research. Topics will include the perceived value of informed consent, the use of digital technologies in research, and the use of social media for recruitment in clinical research. The presentation will conclude with recommendations that support clinical research and the value that participants bring to the research process.
Dr. Ulrich received her Bachelor of Science in Nursing and a Master of Science in Nursing and Pediatric Community Health and Management from the Catholic University of America, and a Doctor of Philosophy from the University of Maryland. After completing her PH.D. in nursing ethics, Dr. Ulrich was the first nurse ever accepted into the NIH's Department of Bioethics postdoctoral training program. When she joined the Penn Nursing faculty and was appointed senior fellow at the Center for Bioethics at the University of Pennsylvania School of Medicine in 2003, she became the first nurse bioethicist. Dr. Ulrich has served as a bioethicist on several DSMBs appointed by the National Institutes of Health; she is also a fellow in the American Academy of Nursing and a past Co-Chair of the Bioethics Expert Panel, a 2018 inductee into the International Nurse Researcher Hall of Fame, a member of the Sigma Theta Tau International Nursing Honor Society, and a Salzburg Global Fellow.

---
This lecture series is made possible by the generosity of The Beatrice Renfield Foundation. It is co-hosted by The Rockefeller University's Heilbrunn Family Center for Research Nursing and the Women & Science Initiative.